Spring Fishing Rod Holder - Automatically Pulls Back When Fish Detected
This unique fishing tool automatically pulls back when a fish bites. Is that cheating? Maybe. It's all good though. Sometimes you just need an edge.
FEATURES:
High impact resistant construction & more stable prism construction. The prism construction is very easy to plug into the soil stable which is not spin. Be able to withstand maximum tension to 110 pounds.

Fishing rod holder with double spring-loaded tip-up action sets your hook automatically.

Line trigger activates tip-up

 

only when fish hits the hook

 

- no misfires
2 built-in ground stakes. The new design circle plate for the fishing rack holder easier to plug into the soil than any other old version. You can put your hand directly on the plate and push it to the soil.
Never rusty & Anti-corrosion.

 

All metal construction. This fishing rod holder is totally made of high-quality stainless.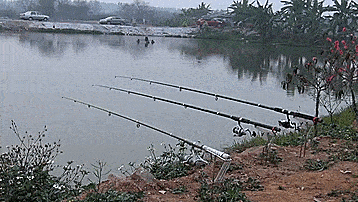 Perfect for shore fishers with many rods out at the same time, or just lazy and boat fishing lovers. The spring-loaded rod holder will actually pull back whenever a fish is detected on the line. Using an innovative way of stringing the line through a hook on the device, it becomes a super sensitive way of detecting when a fish is on the line and will immediately pull back on the rod to set the line.
The spring-loaded fishing rod holder has three different levels of sensitivity, so if one setting is too sensitive or not sensitive enough for the fish you're trying to catch just adjust the setting on the device.